CJ CASA is an accommodation for our guests to interact, see, and feel the products and places awarded of COOL JAPAN AWARD. This time we had build CJ CASA aoao on the Yoro island which received an COOL JAPAN AWARD 2017 for its Coral Stone Wall, Sagaribana Path, & neighboring island Hanmya Island. CJ CASA aoao is build with materials awarded of COOL JAPAN AWARD and also decorated with them as well. So guests will be able to immerse themselves in this unique and beautiful culture of Japan.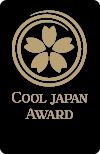 The Cool Japan Association aims to help raise awareness of locations and products throughout Japan that are specifically appealing to the global market. To be certified, each applicant undergoes a screening process which ends with a group of 100 foreigners judging each item. Cool Japan Award nominations can be anything from a local specialty product or scenery to activities or cultural traditions. Comments from the judges are provided to each winner to help with their promotion strategies. One of the goals of the award certification is to stimulate economic revitalization, especially in the countryside areas. The Cool Japan Award was established in 2015 by the Cool Japan Association, a non-profit organization supported purely by private sectors.
Visit our official website for more detail. 
What you can find in CJ CASA aoao