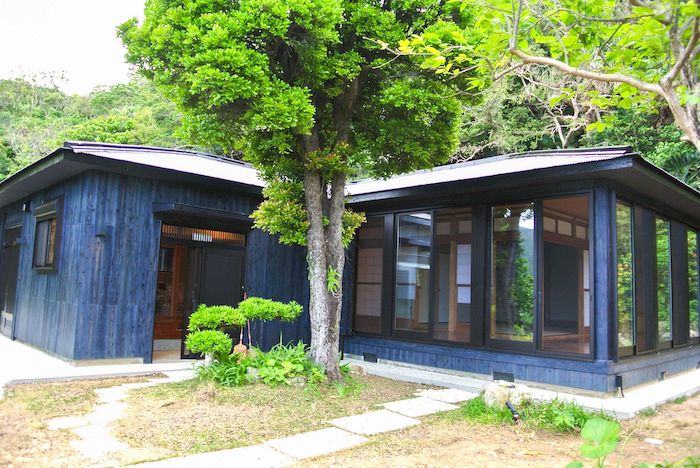 let yourself free in this almost a privet island
Size               160m² (with kitchen, living room, bedroom, tea room, garden)
Maximum      6 people
Bed                1000 × 2000 × 2 * Check the size
Futon             1000 × 2000 × 4 sets
Meals v          Self-service / reservation required
Price              One room rental for one night ¥ 110,000
Indoor smoking is not permitted
|Please read before booking
CJ CASA aoao is located in a very remote area of Japan so please confirm below conditions before booking.
What we have

In the island, there is only a single small store, and we as our guests to cook for themselves. Thank you.  
Private concierge
a quiet room
Nature and sea
The sound of waves The sound of wind The sound of birds
Insects
Comfortable time

 
check in / check out

Check-in from 16:00 to 19:00 / Check out 12:00
in room amenities

Shampoo, conditioner, body soap (C / O GERD), toothbrush, bath towel, face towel, hand towel, bathrobe, room shoes, electric pot, glass, cup, tea set, hanger, refrigerator , 
* Please note that there is no room wear.
dinner and morning

We do not serve meals at cjcasa aoao. You will be going on shopping with our concierge in Amamioshima.
What we do not have

TV set
pajamas
Disposable amenities
(Hairbrush, shaving, etc.)
Swimming pool
morning Call
Room service
Excessive hospitality
payment

Please pay by cash.
cancel policy

To cancel your reservation, please contact us at least 7 days before check-in. Please note that a cancellation fee will be charged after that.

100% of room rate if you do not stay
80% of room rate in case of cancellation on the day
60% of room rate in case of cancellation the day before
30% of room rate in case of cancellation 2-6 days prior
Make a reservation by email 
When making a reservation please fill in the following items and contact amami@nationalparktourism.jp.
1. Name =
2. Phone number =
3. Address =
4. Accommodation date = yy/mm/dd
5. Number of occupants = x Adults x Childrens (anyone under the age of 12)
7. Number of nights = days
Please understand that reservation is not confirmed until you receive a confirmation email from us. If we receive an email on weekends, we may be getting back to you on our working day. Thank you for your understanding. 
 
Make a reservation by phone
When making a reservation by phone, please contact 0997-72-5296.
* Reception hours 11: 00-18: 00 (Monday and Tuesday)
Please check which dates are available from the calendar below (* Subject to change without notice.)

■= Available
■ = Booked